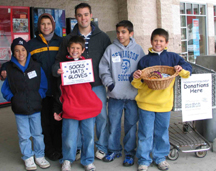 Start Your Own Chapter
If you would like to start your own chapter of Warm Hands, Warm Hearts, we would love to help you get going. All you need is a little time and a few helpers to make a big difference in your own town. If you like The Tower of Penny Power project and would like to try it at your school or if you like any of our other projects we can help you make them happen.

You may contact us by sending an email to:

thefriendlyfolks@warmhandswarmhearts.org
or by clicking here.